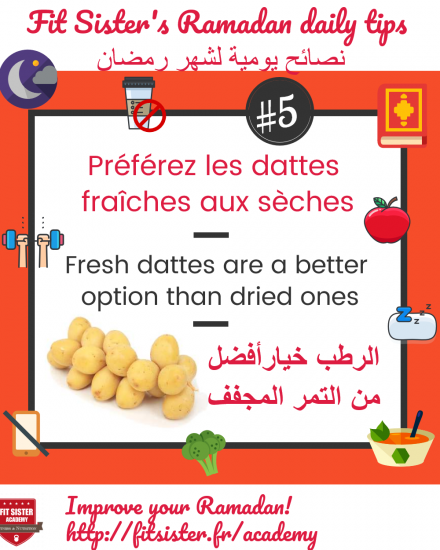 Are you ready for one month of english-french-arabic daily tips in order to get prepared for your healthiest Ramadan? Let's go for day five!
On ne peut pas parler de Ramadan sans parler des dattes, un incontournable. Mais, attention, il faut les consommer avec modération et faire les bons choix. Je vous conseille de les choisir fraîches plutôt que sèches pour plusieurs raisons.

Le Prophète -saws- les a préférées. Anas (ra) rapporte : « Le Messager d'Allah coupait son jeûne en prenant des dattes fraîches avant d'aller prier. Quand il n'y en avait pas, il prenait des dattes sèches ou, à défaut, quelques gorgées d'eau. »

Elles sont plus riches en eau et donc plus rassasiantes que les dattes sèches qui ont été déshydratées. Vous êtes ainsi satisfaits plus rapidement à la rupture du jeûne et moins tentés d'exagérer.

Les dattes fraiches sont moins concentrées en sucre que les dattes sèches. D'autre part, ces dernières sont souvent enduites de divers produits et de sirop afin de leur rendre la brillance qui a disparu lorsqu'elles ont séché. Soyez donc attentifs en faisant vos achats.
(Pour ma part, j'achète les dattes fraîches d'Iran que l'on trouve notamment en Biocoop.)
Plus de conseils concernant les aliments à choisir pendant Ramadan se trouvent dans l'ebook Vivre Ramadan sainement

---
Dates are a must during Ramadan, but we have to eat them in moderation and make the right choices. I advise you to choose fresh dates rather than dried ones, for several reasons:

The Prophet prefered them. Anas ibn Malik (ra) said: « The Prophet -saws- would break his fast with fresh dates before praying. If there were no fresh dates, he would eat a few dried dates. If there were no dried dates, he would drink a few sips of water. »

They contain more water and therefore are more satisfying than dried dates that were dehydrated. Satisfaction comes faster and your are less tempted to exaggerate.

  Fresh dates are much less concentrated in sugars than dried dates. Moreover, dried dates are often soaked in various products and syrups to make them look glossy. Be carefull.
More advises for Ramadan in my ebook Healthy Ramadan Blueprint.
Healthy Ramadan Blueprint

---
لا بد من الحديث عن أكل التمر خلال شهر رمضان. علينا الاعتدال والخيار الصحيح. أنصحكم أن تختاروا التمر الطازج (الرطب) على المجفف :

فضله النبي (صلى الله عليه وسلم) كما جاء في حديث أنس بن مالك (رضي الله عنه) :  » كَانَ رَسُولُ اللَّهِ صَلَّى اللَّهُ عَلَيْهِ وَسَلَّمَ يُفْطِرُ عَلَى رُطَبَاتٍ قَبْلَ أَنْ يُصَلِّيَ فَإِنْ لَمْ تَكُنْ رُطَبَاتٌ فَعَلَى تَمَرَاتٍ فَإِنْ لَمْ تَكُنْ حَسَا حَسَوَاتٍ مِنْ مَاء »

  يحتوي الرطب على المزيد من الماء فسيأتي الشبع بشكل أسرع ولن ترغبون في المبالغة.

تحتوي التمر المجفف على المزيد من السكر وبالإضافة إلى ذلك هو مغطى بمنتجات وعصائر لجعله أكثر إشراقا.