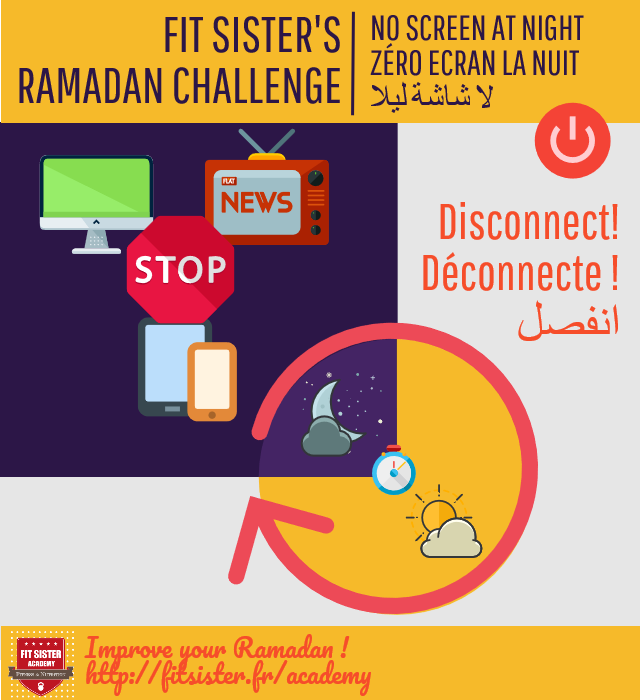 Savez-vous que notre corps ne différencie pas la lumière bleue venant des écrans et la lumière du jour ? L'utilisation des écrans après le coucher du soleil (smartphones, tablettes, télévision ou ordinateur) a des conséquences négatives sur le jeûne :

Cela perturbe le sommeil (endormissement tardif, insomnies, sommeil de mauvaise qualité) et nous rend encore plus fatigués et moins productifs durant le jeûne.

Ce manque de sommeil entraîne une augmentation de la sensation de faim et des fringales et une baisse de la capacité de récupération.

Cela nous empêche de nous investir dans des activités spirituelles et de nous consacrer pleinement à nos proches.
📍Alors le challenge que je vous propose de relever est simple : éteindre tous les écrans du maghrib jusqu'au Sahur pendant tout le mois de Ramadan.📍
Je sais que nous pouvons le faire !
Vous trouverez de plus amples informations concernant le lien entre jeûne et sommeil dans mon programme Vivre Ramadan sainement
---
Did you know that your body doesn't see the difference between the screen's blue light and the light of the day? Using screens at night (smartphones, tablets, television or computer) has 3 major negative impacts during Ramadan:

It disturbs sleep so you end up much more tired and less productive during the fasting days.

This lack of sleep increases hunger and cravings and decreases your recovery capacity.

It prevents you from involving into spiritual activites and spending quality time with your family.
Are you ready to take the challenge?
📍Let's turn off our screens from Maghrib to Sahur during Ramadan.📍
I know WE CAN DO IT together.
You'll find much more information concerning sleeping during Ramadan in my Healthy Ramadan Blueprint program
---
هل تعلمون أن الجسم لا يفرق بين ضوء النهار والضوء الأزرق من الشاشات؟ استعمال الشاشات (الهواتف الذكية والأجهزة اللحوية وأجهزة الكمبيوتر وأجهزة التلفزيون) أثناء الليل له ثلاث تأثيرات سلبية:

هذا يعطل النوم ويكثر التعب ويقلل الإنتاجية.

قلة النوم يؤدي إلى زيادة الجوع والرغبة الشديدة لتناول الطعام وانخفاض القدرة على التعافي.

يمنعنا من القيام بالعبادات وقضاء وقت ممتع مع أحبائنا.
📍التحدي بسيط! إيقاف جميع الشاشات من وقت المغرب إلى السحور طوال شهر رمضان المبارك.📍
أتأكد أنه ممكن لكل واحد منا!